23 february
Horacio "Chacho" Puebla became the XIIth chairman of the KIAF's Creative Jury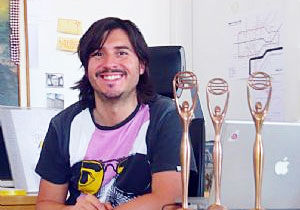 Horacio "Chacho" Puebla, General Creative Director Leo Burnett Iberia, became the XIIth chairman of the Creative Jury in the history of Kyiv International Advertising Festival.
In his role of Chairman Horacio and other colleagues of the Creative Jury will determine the fate of the awards for such competitions as Film, Press, Outdoor, Radio and Creative Use of Media at XIIth KIAF, moreover exactly will Horacio Puebla decide the fate of Festival Gran-prix.
Horacio, Chacho for friends, is the owner of numerous awards, he won more than 160 awards in international advertising festivals, including 15 Cannes Lions. In 2009 his agency Leo Burnett Portugal won title Agency of the Year with 11 Cannes Lions and the Clube de Criativos de Portugal award.
He believes that creativity has no borders and his life is the best confirmation and nice example for young creative's.
Horacio "Chacho" Puebla is an argentine born in Mendoza. After having worked in his city for nearly 5 years and creating the "Circulo de Creativos", he went on to live in Santiago, Chile. One day he was contacted by Alexandre Okada to go work in Lisbon with Fernando Bellotti. Two years later, the Portuguese city welcomed him and he discovered Europe for the first time.
After working for 2 years in Leo Burnett Lisbon, he was promoted to Executive Creative Director in the agency. He managed to make the agency climb 10 positions in the ranking of Portuguese agencies and become the 7th most creative agency in the world. Since September 2009, Chacho has one of the toughest challenges which consists in making Lisbon and Madrid work as one agency and convert them into an Iberian advertising agency with offices in both countries.
Chacho one of the most awarded creative person in the world and his creative ideas were appreciated at true value at such international contests as D&AD, Cannes Lions, Clio, One Show, London Festivals, El Sol, New York Festivals, Eurobest, Fiap, Epica, El Ojo, Fiap, C de C, Shark, Golden Drum, CCP
KIAF's Organizing Committee remembers that registration is open for participants Detailed terms and conditions of payment can be found on Festival's website. Note that only till the end of March a special tariff, which gives significant discounts, is possible for the participants
Next Page