22 march
Who will decide the fate of 12th KIAF's Press Award?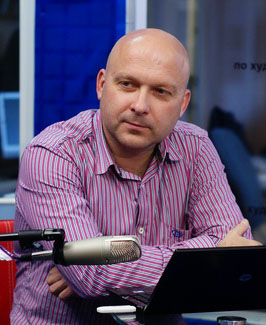 Press Awards are unique for KIAF's winners for some reasons. First of all, by form - all Gold winners of the Kiev International Advertising Festival will get the plate with fish, but only Press winners traditionally expect on Festival pan. Second, by quantity - Press Jury awards only two best entries - best TV and best print in category, so annually only two pans issued by KIAF's Jury.
This year, first time the Festival's history, jury will be headed by Belarus representative, Sergey Skorokhod, chief editor at Marketing.by. This online project is probably the main information resource for the Belarusian advertising community.
Other members of the Press Jury are also leading and well-known professionals:
Margarita Vasilieva and Andrey Nadein, laureates of "Sled v reklame" Award, magazine Reklamnye Idei, Russia
Eugen Romat, professor, laureate of "Sled v reklame"Award, chief editor of magazine Marketing and Advertising, chairman of Ukrainian Advertising Union, Ukraine
Hando Sinisalu, managing partner at Best-marketing, leading publishing house in Baltic's countries, Estonia
Aleksey Trubnikov, CEO www.sostav.ru, Russia
Irina Rubis, chief editor of magazine Marketing Media Review, Ukraine
Irina Mironova, observer at Kommersant-Ukraine, special correspondent at Sostav.ua, Ukraine
Entries are accepted until April 22. Detailed terms and conditions of payment can be found here.
KIAF's program consists of 14 contests which will be judged by 9 panels of judges headed by real ad professionals. Details - on official Festival's website: http://www.kiaf.com.ua/
More information on http://www.kiaf.com.ua/, http://www.facebook.com/kiaf.com.ua, http://twitter.com/kiaf_ua
Next Page