18 may
Mami will organize promotional costumes competition on 12th KIAF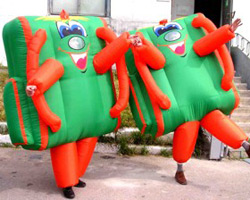 May, 27 on Kiev International Advertising Festival, MAMI will organize promotional costumes fashion show. Best promo costume will be awarded by Festival's guests and participants election.

Original and memorable promoter costume is one of most important components of promotional activities and an unconditional guarantee of success. Therefore, agency, which creates spectacular and unusual promotional costumes, deserves special attention of potential clients.
To represent diversity of promotional costumes and award most creative Ukrainian "advertising designer", MAMI and Full Contact agency, organize competition for best promotional costumes on KIAF.

To participate you should:
- send a list of costumes which will be participate in competition to email news@ mami.com.ua
- in letter you should indicate
1. Title and brief description of project mechanics
2. Agency
3. Client
- bring costumes to office Full Contact agency: 30-B Fizkultury str., 2 floor, office 202, for Svetlana Gladun. Deadline 17.00, May, 24
We look forward to your entries!
Next Page